News
EXPANSION EFFORTS IN FULL SWING AT BER
Masterplan 2040 was drafted for Berlin's future airport (BER) in 2017. Ever since then, amd.sigma has provided on-going support for Germany's largest airport project. Working off of the urban expansion concept outlined in the airport masterplan, we are currently collaborating on two ambitious projects to expand the terminal infrastructure.
T2 Ready in Record Time
By the time of its inauguration, Terminal 2 will expand the capacity of BER by six million passengers per year. For the design, we decided on a fast-track construction approach with maximal simplicity for both the structure and the facade. Together with our partners atp architekten ingenieure we succeeded in developing T2 a record time of eight months from the initial project idea to the spatial planning to the submission of the building application in December 2017.
In spring 2018, just one year after the project start, a building permit was granted for the 23,000 m2 project. The topping-out ceremony was held on 29 July 2019. When the site is handed over at the end of 2020, T2 will become one of the most rapidly implemented terminal projects in Germany.
T3 as a Bridge to the Future
With an area of around 175,000 m2 and the capacity to handle 15 million passengers, Terminal 3 will present the next major phase of the expansion strategy at BER. One particular challenge related to T3 was limited space, which led to a division of the building into two sections connected by an airbridge.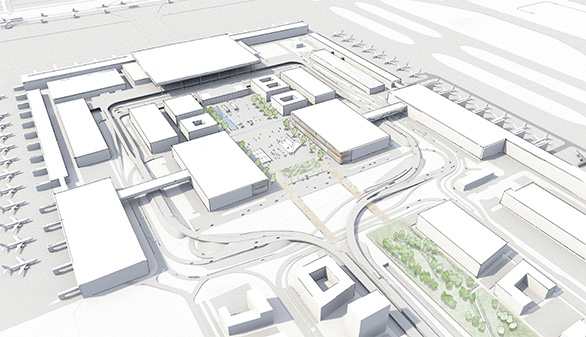 From September 2018 to October 2019, amd.sigma developed a detailed project concept for T3 in the form of a test planning. This planning was generated as a three-dimensional BIM model which also integrates the 3D concept for a baggage handling system developed by our colleagues at suisseplan. Terminal 3 will feature the most advanced automation methods for passenger processes ever to be used at an airport in Berlin.
The test plan allowed us to verify the feasibility of the project and support the client with a holistic instrument for the elaboration of user requirements and layout planning as well as a detailed cost estimate.